From the Archive
WAT's 2019 statement marking 17 years of Guantanamo
CLOSE GUANTANAMO — Rule of Law, Not Rule of Trump
Stop Cruelty, Fear, Islamophobia, Racism, and Lies
On January 11, human rights activists and attorneys will gather at the White House in Washington, D.C. to mark another tragic year since the opening in 2002 of the U.S. detention camp at Guantanamo, where forty prisoners remain. The demonstrators will call for the closure of the prison camp.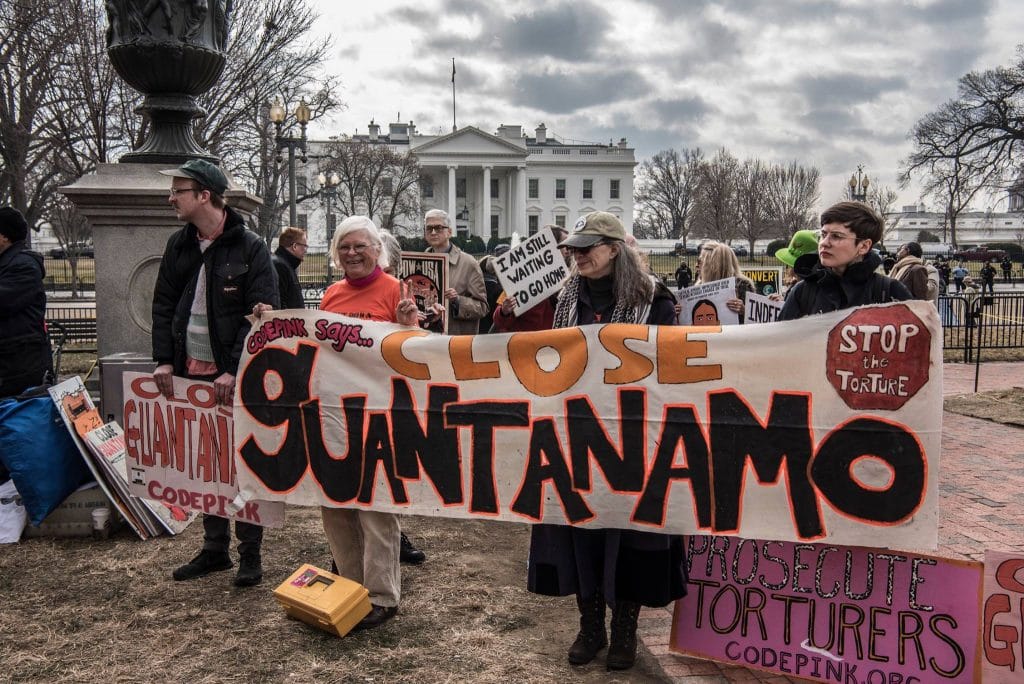 (Please check back periodically for latest updates.)
Sunday, January 6 to Sunday, January 13, 2019
First Trinity Lutheran Church Hostel
501 4th Street NW (entrance on 4th St)
Washington DC 20001 (4th and E Sts NW)
(Judiciary Square Metro)
WAT's 2019 Fast for Justice
We invite you to gather with us in community in Washington, DC, January 6th to 13th for Witness Against Torture's 2019 Fast for Justice.
Please join us as we mark Torture Awareness month with a vigil and teach-in, described below.  For our full  newsletter, please click here.
On Speaking Truth to Power
June 21, 2018
By Helen Schietinger
Rights Groups Tell Donald Trump to Close the Prison, Say "Not One Day More!"
May 7, 2018
Prosecution not Nomination: #OpposeHaspel
It was with heavy hearts that we, as members of Witness Against Torture, listened to Trump's State of the Union address Tuesday evening. We heard him attempt to stoke fear in his listeners with wave after wave of references to terrorists and criminals. He began by linking terror to "illegal immigrants," border walls, "chain migration," and visa lotteries, before moving on to ISIS, Al Qaida, rogue regimes, unlawful enemy combatants and more.
For immediate release
Join us on social media