From the Archive
Dear Friends,
We wanted to send out a recap of our witness at the Inauguration Resistance and the Women's March in D.C. You may view more photos at the following links:
Inauguration protest
Women's March on Washington
We direct you again to WAT's statement opposing Trump's agenda on torture and detention, and to the new video that Justin made to break down what needs to happen to close Guantanamo, now that Trump is president. Our friends, the Peace Poets created a new spoken word video to encourage us in these difficult times – view it here.
Lastly, we have included an ask from our partners the Coalition of Concerned Mothers – please sign their petition here and read about their work.
Witness Against Torture Calls for the Rejection of Executive Order Measures, Warns of Broad Dangers of Trump Agenda
The draft of an Executive Order on US detention and interrogations threatens a nightmarish return to the illegal, immoral, and un-American torture policies of the Bush administration.  Its proposed measures — from the re-establishment of CIA "black sites," to the review of interrogation practices as detailed in Army Field Manuel, to the denial of International Committee of the Red Cross access to US detention centers — point to one thing: the resumption of the cruel, inhuman, degrading, and torturous abuse of Muslims.   
Dear friends,
We celebrate the release of ten more men from Guantanamo Bay Prison: Ghaleb Nassar Al Bihani, Mustafa Abd al-Qawi Abd al-Aziz Al-Shamiri, Karim Bostam, Abdul Sahir, Musab Omar Ali Al-Mudwani, Hail Aziz Ahmed Al-Maythali, Salman Yahya Hassan Mohammad Rabei'i, Mohammed Al-Ansi, Muhammad Ahmad Said Haider, and Walid Said bin Said Zaid. They were released to Oman over the weekend. We were privileged to spend time in D.C. with Ghaleb's wonderful drawings when we visited the Tea Project's Exhibit (It is open until Friday at GWU's Gallery 102).
Below are some more detailed notes from the workshop that Jerica led based on the class she teaches on Whiteness.  There are questions at the end which we considered together as we planned our witness in DC on January 11 and during the inauguration resistance. We invite you to read through these resources and consider these questions with us.
Clad in orange jumpsuits and "Shut Down Guantánamo" t-shirts, activists with Witness Against Torture took over the Hart Senate Building with a message for senators, staffers, and the general public. They marked the 15th anniversary of the opening of the prison at Guantánamo Bay, Cuba.  
Day 6 of the fast was "Pentagon Monday" and brought an early morning and cold temperatures. The lights turned on at 5:30am to allow our 30 plus people to wake up, get dressed, and travel to join the Dorothy Day House weekly vigil at the Pentagon. We brought the men in Guantanamo with us as we held vigil in the bitter cold. We spoke their words as the police stood watch and employees rushed pass. It is hard to judge the impact of our presence but there is something important about witnessing at the center of U.S. war making.
"Hope in a Time Like Ours."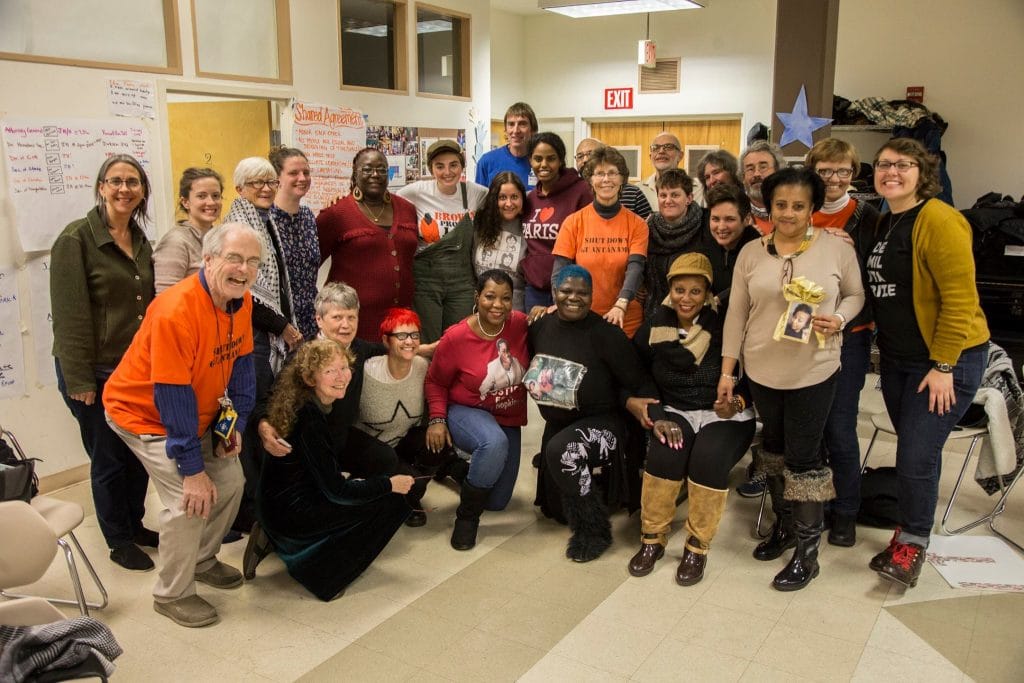 "Hope is a discipline."– Mariame Kaba
This morning's reflection led by Matt Bereza focused on the unseen laws that govern energy and the transfer of energy. In the 1600s a scientist named Leibniz developed a mathematical formula that came to be known as the Law of Conservation. Essentially, this law states that what is taken will be filled—this thought later gave rise to the laws thermodynamics.  While mathematical in nature, these theories can also be seen as philosophical. This morning we meditated on those things we have lost—food, our own space, time, and control over the thermostat. After contemplation, several members of the group responded with what has been conserving their energy.  Most notably, members of the circle spoke about community and the presence of others as nourishing.
At our morning gathering, we reflected on terrors experienced by people bearing the brunt of militarism, racism, and materialism. We reminded ourselves of Dr. Martin Luther King's warning of these three giant triplets of evil. Kathy Kelly shared the moving story of a young man who escaped the bombing of a hospital in Afghanistan, which helped illustrate these words of caution made by Dr. King so many years ago.
Join us on social media